Housing Association Website
North Devon Homes
North Devon Homes is a registered charity which aims to provide affordable homes to people who need them. They manage and deliver housing services to over 3,100 homes throughout North Devon.
The charities old website wasn't mobile friendly and its primitive Content Management System (CMS) made it difficult and time-consuming for staff to update, so whilst undergoing a major rebrand of their marketing and communications material they decided it was the perfect time for a new website, cue Inventive!
User Interface Design
Having successfully pitched, we began the process of developing a new website which would make it easy for customers to find the information they were looking for and easy for staff to manage and update. 
We worked with North Devon Homes' Marketing and Communications team and studied their analytics to identify their users' priorities. Once the users' priority tasks were identified and the sitemap was agreed we began the process of sketching wireframes for the main pages. These wireframes were basically skeletons of the website without the flesh of the finished design, this process allowed us to quickly experiment and iterate on solutions to agree on how content should be laid out across different screen sizes.
Upon agreeing on the wireframes our web designers began to apply the visual polish, sending high fidelity proofs to North Devon Homes for final approval. The result was a bright and user-friendly interface that incorporates the charities vibrant new branding. The homepage features a full-width banner which can be used as a tool to draw tenants attention to important events and matters and these banners can easily be updated by staff at North Devon Homes.
The five priority tasks that we identified in the research phase of the project, including paying your rent and reporting a repair were given quick link buttons on the homepage so that users could quickly navigate to the relevant pages. The design is responsive so it adapts accordingly to the device/screen it's being viewed on ensuring that it's mobile-friendly.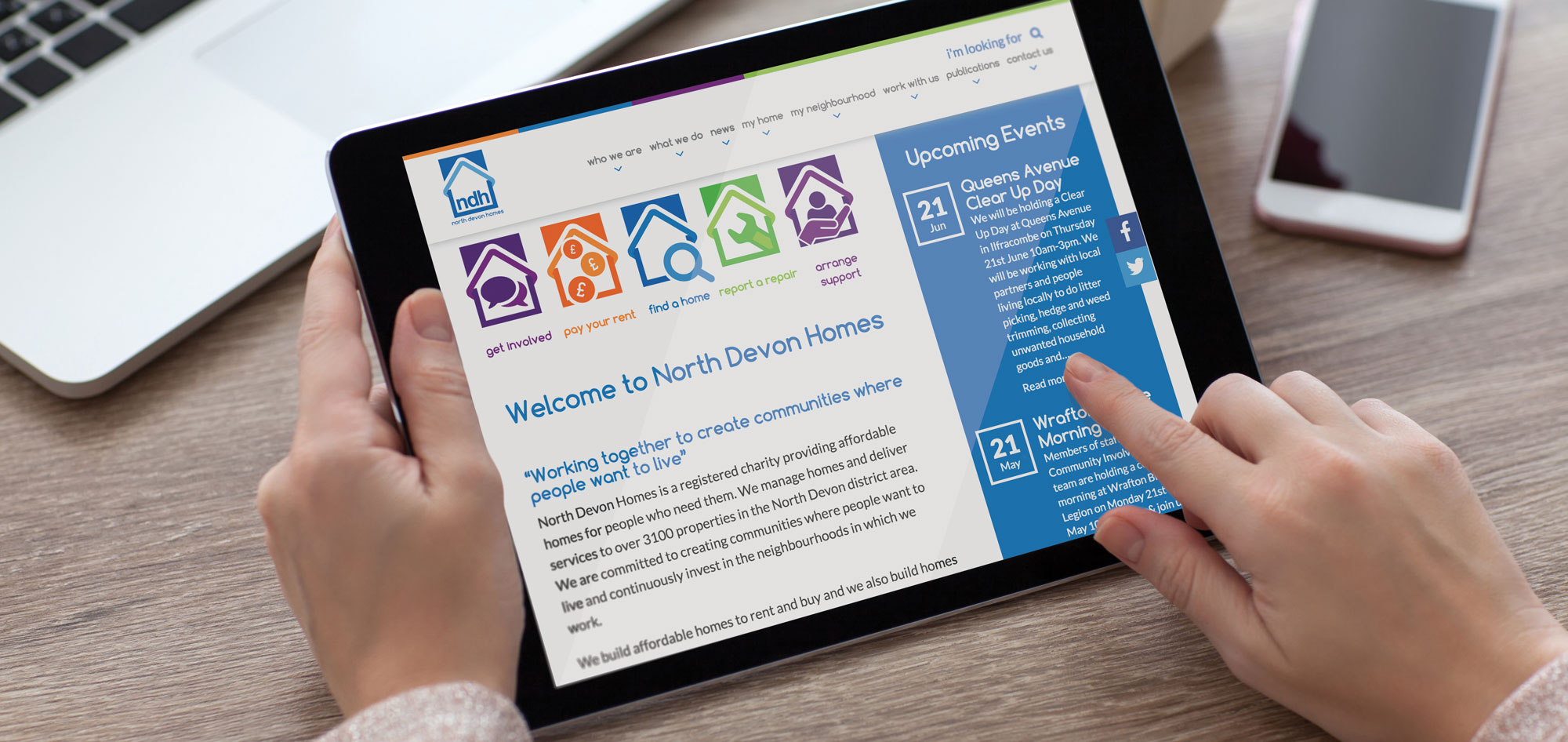 Inventive have designed and produced our new website. Throughout the project Mark and his team were a joy to work with, producing modern and innovative designs and ideas, offering guidance, support and suggestions and a consistently excellent level of customer service. The project was delivered within a very tight deadline in a controlled, professional and creative manner. We are absolutely delighted with the website that they have created for us and have also had some great feedback from our customers who have told us that they love its bright new look and layout.
Drupal 8 CMS
With so many different departments, each holding responsibility for their own section of the site, the Content Management System (CMS) was key to the future success of the website. With this in mind, we developed the CMS using the powerful open source Drupal 8 platform.
We've developed the Drupal CMS to feature multiple user groups/roles, each with varying levels of permission, allowing users to edit their specified areas of content as stipulated by North Devon Homes. Examples of these user groups include one which only allows users to add and edit the websites latest news pages or another group which allows users to add and edit basic pages and events.
To help manage and audit the website, all content added or edited is traceable by user, and is put into a staging area for approval by a site admin before it is published to the site.
We've received some great feedback from the project manager and are looking forward to further developing the website, to add new features over the coming months.