Taste of the West
Taste of the West is the UK's largest independent regional food group. They promote and support the West Country's fantastic food and drink industry covering; Cornwall, Devon, Dorset, Gloucestershire, Somerset and Wiltshire.
The group had an ageing website and wanted to transform their online presence in order to appeal to both their existing trade and their growing consumer market. We worked together to build an intuitive mobile friendly website which would increase engagement with existing audiences and attract new users too.
Design
The website needed to appeal to a broad spectrum of users, from Taste of the West's retail and producer members to their "foodies" consumer market so the interface design was a challenge, but we love a challenge!
We worked closely with the marketing team at Taste of the West to identify the priority tasks for each user group and together we decided that in order to avoid a cluttered and confusing interface, it would be best to create two separate "homepages", one for consumers and one for members.
Mobile and desktop wireframes were created for each page and once we were happy that the user journey would be clear and concise on all devices we began the process of designing high fidelity proofs. The brief was to create an editorial feel for the site which had to remain on-brand. After a couple rounds of revision's to the high fidelity proofs, we were able to create a prototype which Taste of the West used to conduct their own user testing before we moved on to the development phase of the project.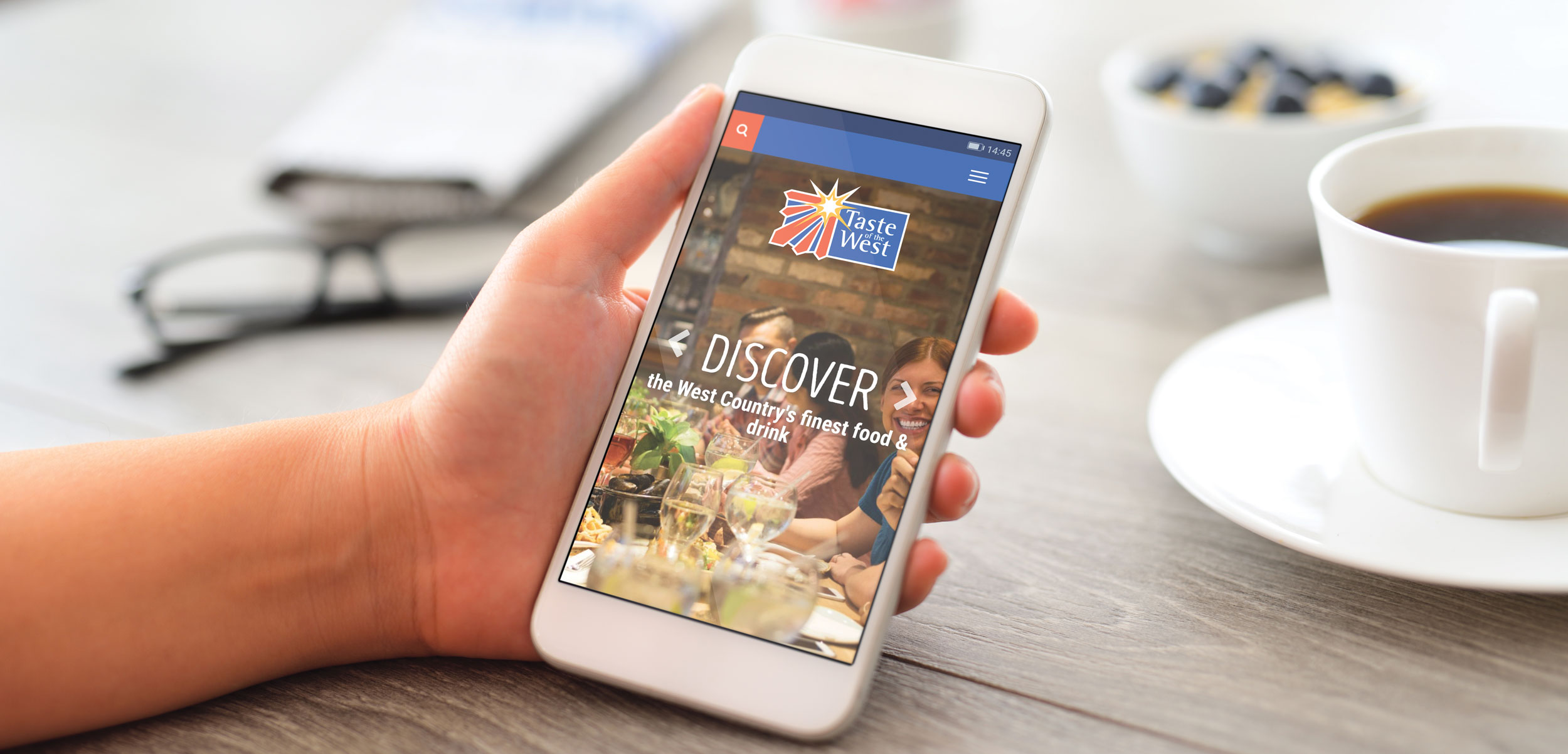 Drupal CMS
We developed a powerful Content Management System using the Drupal framework to make it far quicker and easier for staff to add and edit content.
With a growing directory of over 1,000 member pages, it was important that members had access to manage their own listings. A member user role was created giving each member a unique login, which allows them to add and edit the text and images on their directory page.
The Taste of the West team were allocated user roles with varying permission levels, each tailored to their specific requests. In addition, the new website features a bespoke CRM which was tailored to the organisation's needs.
Food Finder Map
One of the websites main features is the "food finder map" a useful tool to help both visitors and locals locate Taste of the West members. Using the Google maps API we developed the map to allow users to find members in either their geo-located area or by a specified address. Map results can be filtered by various categories such as "somewhere to eat" or "somewhere to shop" allowing users to find just what they're looking for. Results are displayed in the form of Taste of the West icons with gold and silver symbols indicating the award-winning members. A similar map was also developed for the trade members with the filters on that map tailored to business requirements.
"Thank you so much for all your hard work. It has been an absolute pleasure to work with you. Your professionalism, hard work and down to earth attitude coupled with your creativity has been a "game changer" for Taste of the West. You are a great agency and extension to Taste of the West."