How to use photography on your website
5 minute read
Using Photography Online
Your website is amazing. The copy is well written, engaging and rich with keywords, the site is optimised for mobile and you have an excellent, user friendly structure making it easy to navigate around the information you're displaying. What could possibly be wrong with it? Well, the photography and video content on display could potentially have an incredibly negative impact on your viewers.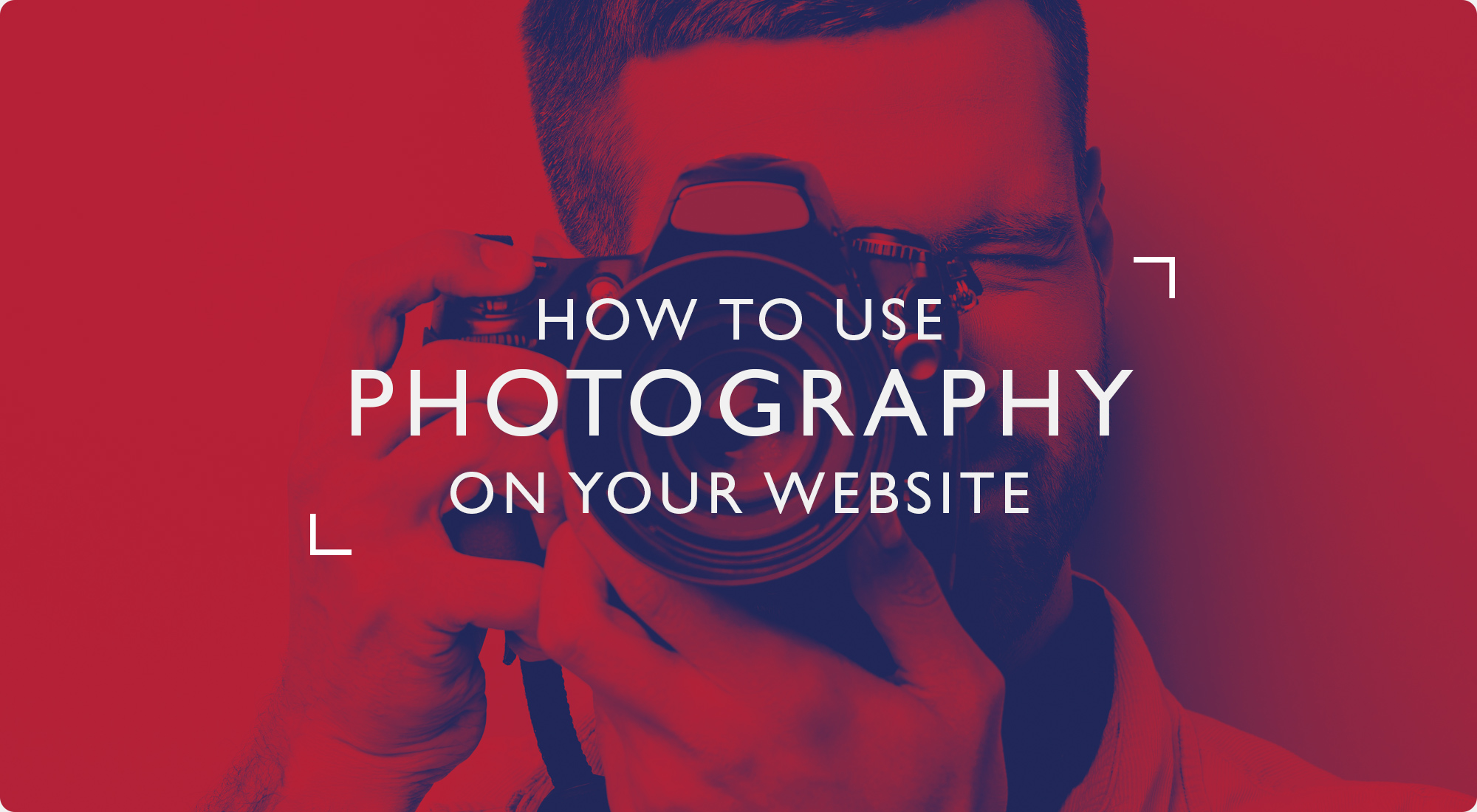 I was recently speaking to a client who confided that his website budget was on the low side because he had earmarked a lot of his available funds for his product photography. As a website designer, you might have expected me to argue my corner and say that he should think about spending more money on developing his website. But I didn't. In fact, I completely agree with his stand point on the matter, especially regarding the market he is in and the audience served in this segment.
Talking to the same client, we discussed how the website would be fairly straight forward and, for want of a better word, basic, with product and lifestyle photography being used to engage the audience and sell the product. We also planned a strategy for how the images would look, where they would be placed and how large these should be across all devices. It was great to hear that he was willing to spend the money to hire a professional photographer, realising that by spending more money at this stage he would make his product more appealing and, ultimately, sell more as a result.
I began to think about what I would suggest to other clients, as well as looking at how others are using photography to successfully market their product. Whilst I am not a photographer, here is a list of ideas and trends to consider when using photography on your own website from a web design point of view.

1. The Camera Never Lies
It doesn't matter if you're selling cars, holiday homes or just want a few snaps of your team, you should always use a proper camera when taking photos for your website. Whilst smartphone cameras have come on leaps and bounds lately, they are no match for a modern DSLR camera in terms of colour range or quality. We all know that a picture speaks a thousand words, but what are you saying about your brand, business or product if the images you choose to display are pixelated, poorly lit or badly framed?
2. Professional Opinion
Relating to my first point, you should always look into hiring a professional photographer to get the best images. Whilst you will know what you want to appear on your site, a professional photographer will know how to stage and light a subject to really help show it off. Not only this, they will have all the kit they need - no need to pay out for your own lighting rigs or expensive lenses. Most photographers will also edit and process the images for you, providing you with photos that have rich colours and deep black tones. It is always good to have a look around for the type of photographer you need, as many will specialise in a specific field such as product or lifestyle photography.

3. Taking Stock
If you aren't looking for anything too specific or can't stretch your budget for a photographer, but want to include stunning imagery on your site, try not to dismiss stock photography straight away. We have all seen the cheesy, generic photos that these sites offer, but you can also find professional quality images of landscapes, food, drink and people that won't look out of place even when mixed with your own photography. Many photographers will use these sites as an additional source of income or exposure, so you are likely to find some real gems.
4. Define Your Style
Brand identity doesn't just have to be limited to the likes of logo, typefaces and colours. Your photography should have a consistent feel throughout. This may happen at the editing stage, if you are using soft contrast or black and white photography, or it might be a conscious decision made when capturing the images. If you have a unique product or service, why not try and make your photography a little unique aesthetically? (I've talked about the use of colour on websites previously, and part of that applies here.) Tonally similar images work incredibly well, even more so on platforms like Instagram or as part of an online gallery. With product photography try using the same background for each image, ideally one that doesn't conflict or clash with the object in the foreground. Using a professional photographer, as mentioned before, will help with defining a style across your site and create a photographic 'language' that you can use across your brand.
5. Size and Quality
Whilst large, full screen images are beautiful and very trendy, they can have the unfortunate side effect of slowing down the performance of your site if they aren't optimised for the web. This is not to say that you should not use these at all. When uploading photos it is good practice to never use the original as both the physical dimensions and file size may be larger than you actually need. There are several online platforms that will optimise your images for web, helping to keep your website running smoothly, but this can also be done by your web team (or anyone who is a dab hand with Photoshop). Some content management systems will also have this feature built in, but it is always worth considering optimising the images for web yourself.

Those are just a few of my recommendations on how to best use photography on your own website. It is always best to speak to a photographer when sorting images for your website, and I am sure they will have many more thoughts and ideas to help you. If you are interested in getting new photography for your website, or if you have a web, print or marketing project that you think we'd be able to help with, don't hesitate to contact us.